As an artist, I am trying to make the World a more Beautiful place.
Watch my Pain-things, hope they make you Fly...
Some will make You Laugh
Some might make You Cry...
Just Remember:
If You feel Good...
or if You are in Trouble...
YOU ARE ALWAYS WELCOME
IN MY BUBBLE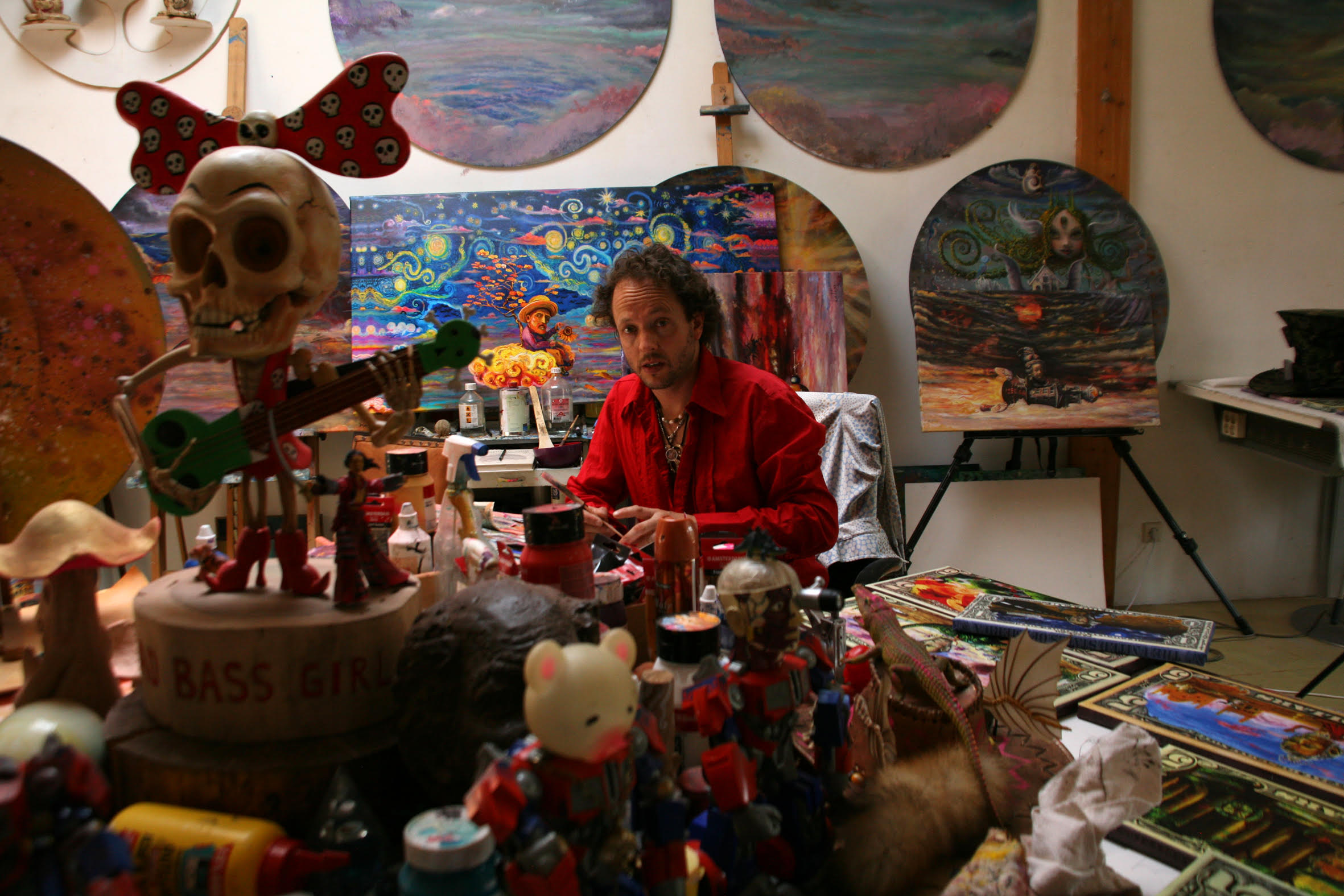 Hello and Welcome, my name is Kamiel Proost, also known as Uncle K. 'Kami' or just K. The influences in my work are like the people in the Global Village Amsterdam coming from all directions: Pop, Surrealism, 17th century Dutch Masters, Comics, Mexican Folk Art, Art Deco, Hindu Kitsch, Visionary Art, Digital Experiments, Tribal Tattoo's and so forth and so on. Since Amsterdam has been the melting pot countless cultures and a refuge for many Free Thinkers throughout the centuries, I try to communicate a sense of Freedom, Wonder and Beauty in my work. Best with a slight taste of Humor.
That is not to say that my work is all Nice & Lovely. No. Since I have been suffering from depressions since a young age, I do need art as a outlet for my anger and despear as a reaction to the boredom and stupidity that have Humanity in a tight grip. Therefore as soon as I have time and saved some money I do like to spend a year or two on Triptychs which include Heaven and Hell on our playground: Earth.
My art is not just in painting, but also in poetry, mc-ing, performing, video and hosting art events that all have the common theme of creating Free Space and Togetherness. I was closely connected in creating Amsterdams first city beach and Cultural Haven 'Blijburg' with Stanja van Mierlo. And a bit with the creation of another Cultural Free Space 'Noorderlicht' at the NDSM in Amsterdam Noord. Since I was born in the Summer of Love 1969 the fight for Freedom and Love has been kind of in my genes.  I have a 3o year connection with the festivals of Ruigoord with the 'Amsterdams Ballon Gezelschap' and their village Ruigoord for more than 30 years now. Joining them in their 'Happenings'.  Creating a Bohemian Tribe of poets and musicians. At this moment the creation of a new Cultural Free Space is happening in Ibiza, called 'Amoringen'. A beach club with painting studio, ceremonies and small concerts. I think people should have Free Spaces all over the planet, until the whole world becomes a Free Space. Some people call me too idealistic, but I still believe it can be possible.
For the two monthly magazine 'Amsterdam Enjoy' I interviewed some of my favorite artists like: Mark Ryden, Niccoletta Ceccoli, Hans Kanters and Ray Cearsar. And for frontier magazine I have written some articles about the mysteries of our past.
I don't consider myself a great artist, but I am excited to keep on learning and until now it has been quite an interesting ride. I will keep on exploring till the day I die...
My painted work can be seen in Kokopelli, Warmoesstraat 12, Amsterdam. Open 7 days a week, 365 days a year from 11-22 hrs...
or Online here...
ENJOY
K.
Atelier Kamiel Proost, Amsterdam
Oude Haagseweg 53 B2 1066 DC, Amsterdam Netherlands
Tel: 00 31 (0)6 17308860
Email: kami@kamiel-proost.com